Koh Chang is a small island about 200 miles from Bangkok. When you arrive here, one of the first things you will learn is that the meaning of this island's name is "Elephant Island". As you stay in shacks and wander through small villages, you will realize that the tourism of Koh Chang is powered by tourists searching for tranquility and peace. There are a handful of resorts on this island but most visitors love the simple and quiet life of Koh Chang and its lively inhabitants.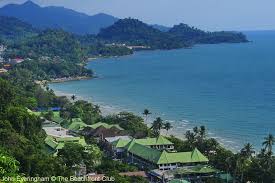 Often, sightseeing in Koh Chang features a healthy dose of the sea. This island is part of the Mu Ko Chang Marine National Park and is full of lovely spots to dive and swim. The White Sand Beach is very close to the ferry piers and the island's most touristy beach. There is a wide variety of restaurants, beer bars, plus several other watering holes. Khlong Kloi is a sandy beach at Ao Bang Bao eastern end with a hidden-away feel. You will find all the requisite amenities here including a few guesthouses.
Ban Bang Bao is a former fishing community built in the fashion of interconnected piers. The locals have swapped their nets for renting out their homes to restaurants and souvenir shops. Most travelers come to this place for shopping and an excellent seafood restaurant. Bang Bao at first sight may look like a tourist trap, however, the pier is a fascinating place to explore and the traders here sell locally made produce. See the lighthouse and boats bound for the islands nearby by walking to the far end.
Mu Ko Chang National Marine Park is a marine and land national park covering the stretch of the archipelago and protects a large part of the island's central area. Conservation efforts at this park are a little rapt but you will have to pay a fee when visiting some of the park's waterfalls. In Mu Ko Chang National Park, the law forbids topless sunbathing and nudity; this includes all beaches on Ko Wai, Ko Mak, Ko Kut, and Ko Chang.
Fishing occupies a significant part of the local economy and once you are done exploring the various attractions, you can sample seafood bought at one of the local villages' small markets. Slip into the jungle afterward to catch a glimpse of Koh Chang's many stunning waterfalls or settle down nearby a quiet stream to reflect and rest.